Eight-week pilot program underway for APAH families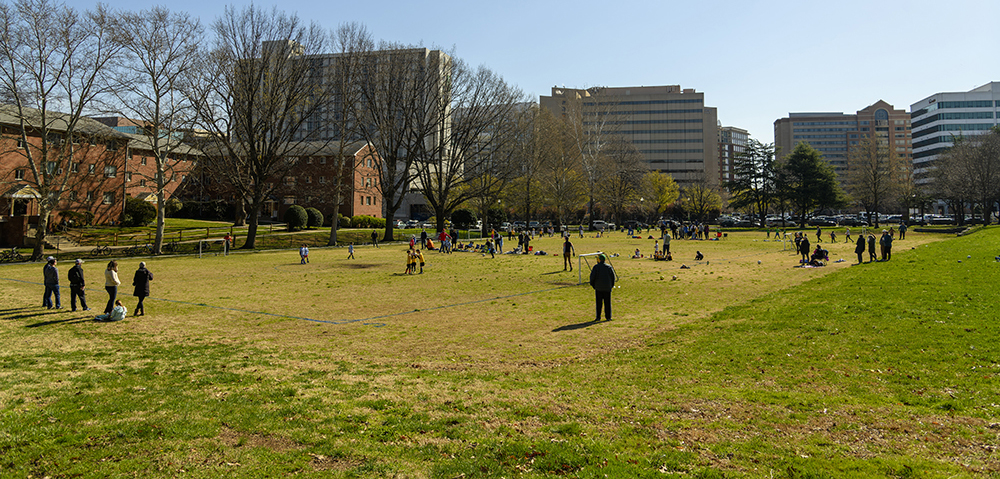 ARLINGTON, Va. – Arlington Soccer Association is teaming up with the Arlington Partnership for Affordable Housing (APAH) to provide free soccer programming.
The eight-week pilot program recently kicked off and brings soccer programming to families who live in APAH's more than 2,000 affordable apartments throughout Arlington County. The programming is offered once a week at local parks and elementary schools for children as young as 3 years old.
"We couldn't be more excited to continue to work with such a great organization," Arlington Soccer Executive Director Frank DeMarco said. "APAH is truly a community partner that for more than three decades has always looked out for hard-working, low-income families and has provided affordable housing opportunities to help grow and enrich our community. It is our pleasure and honor for our coaches and staff to connect and engage with families and children who may not have otherwise been able to enjoy and experience the beautiful game."
Despite being one of the wealthiest counties in the nation, Arlington County consists of more than a third of school-age children who qualify for the free and reduced-price meal programs.
An established presence for more than a half century, Arlington Soccer strives to give back. Community-based programs such as Girls with Goals and our partnership with the Real Madrid Foundation have brought soccer directly to thousands of children at no cost to them or their families.
"Providing access to engaging and exciting enrichment opportunities for APAH youth is one of our top priorities," APAH President and CEO Carmen Romero said. "We are excited to partner with the Arlington Soccer Association, which certified 12 young people who live in APAH properties as state soccer referees. To get certified, they had to complete several hours of curriculum and on-field training in addition to their schoolwork. Now they can get paid as a referee and will work games all around Arlington.
"This partnership is another example of what happens when opportunities are made available for youth who might not otherwise have access. Our young people can step up and achieve amazing things. I am so proud of what they accomplished and am thankful to Frank DeMarco and the Arlington Soccer Association for creating a path for APAH youth to thrive. I know their families are so proud of them, too."
APAH owns, develops and preserves quality rental communities for individuals and families earning approximately $20,000-$60,000 per year, and APAH promises to keep them affordable. APAH's bilingual resident services program helps residents to increase their personal and financial stability.
About Arlington Soccer Association
Founded in 1970, Arlington Soccer is a non-profit association that provides soccer programs for youth of all abilities, backgrounds and financial means in Arlington and surrounding communities. The club develops players, coaches, volunteers and staff, with an enduring commitment to teamwork and community. We offer a broad curriculum to more than 9,000 children per year in a wide variety of programs, including recreational, developmental and travel along with camps, clinics and community-based programs. Learn more at arlingtonsoccer.com.
About APAH
Founded in 1989, Arlington Partnership for Affordable Housing (APAH) is a nonprofit affordable housing developer. We are deeply committed to Arlington and, after 30 years, have expanded our impact to our neighboring communities across the D.C. metro region. We focus on both places and people. We believe safe, affordable housing provides an essential platform for hard-working, low-income families and individuals to achieve stability, pursue their personal goals and enhance their quality of life. Learn more at apah.org.