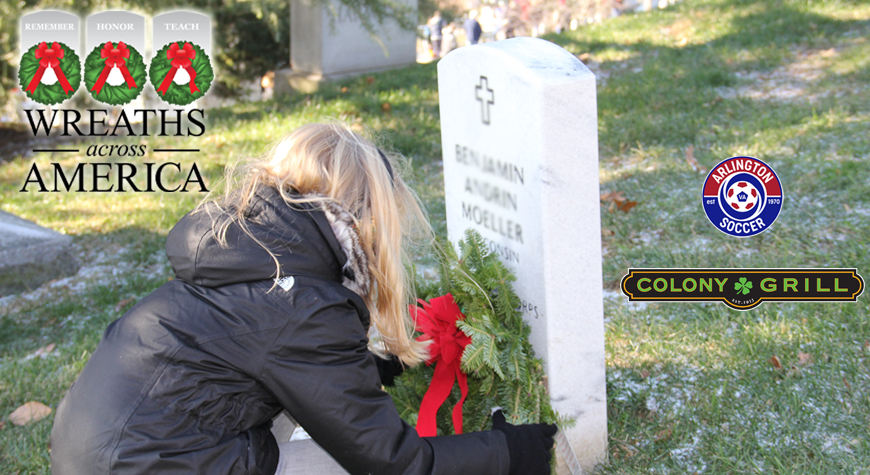 Arlington Soccer is honored to partner with Colony Grill to participate in Wreaths Across America on December 18 at Arlington National Cemetery. There are multiple ways for Arlington Soccer families to get involved and take part in this annual tradition.

To volunteer to take part in this year's event, limited spots are available for individuals and teams. Wreaths Across America is requiring advance signups for specific time slots and select the most convenient entrance. Spots are limited, to secure your spot click by clicking on the link below.

If you want to be involved but cannot guarantee your availability on the morning of December 18, we are accepting donations to cover the cost of live wreaths to be laid by volunteers. To support our participation in Wreaths Across America, donations can be made on Arlington Soccer's fundraising page. The fundraising deadline for wreaths that will be provided this year is November 30.

A longtime supporter of Wreaths Across America, Colony Grill is proud to partner Arlington Soccer for this event. All month Colony Grill will be accepting donations to Wreaths Across America in its Clarendon Boulevard location. For a $5 donation, patrons can receive an adhesive acrylic wreath to be placed on the restaurant's Wall of Heroes. In addition, all Arlington Soccer families who participate on December 18 are encouraged to visit Colony Grill in Clarendon to receive 15% off their bill.